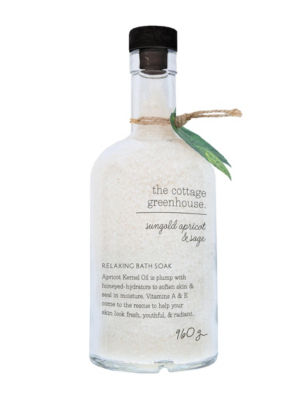 The Cottage Greenhouse Sungold Apricot & Sage Relaxing Bath Soak
Description
Apricot kernel oil is plump with honeyed-hydrators to soften skin and seal in moisture. Vitamins A and E come to the rescue to help your skin look fresh, youthful, and radiant.33.0-oz.

Mother Nature knows best! Our sleepy-time, stress-less soak. Skinny dip for self rejuvenation! Transform your ordinary bath into a classic spa retreat. Our natural salt crystals are extracted from deep sea deposits delivering nutrients which can work to help balance skin cells and purify pores. We add epsom salts, which have been known to soothe tired muscles, assist in relieving stress and can aid in promoting the production of serotonin. This all adds up to a before bedtime (or anytime!) concoction to soak away stress to help your body settle down and cozy in for a good night's sleep. After a mineral-rich bath, you will feel more relaxed, calm and happy. Dip in and renew yourself! Made withapricot kernel oil, sea salt crystals and epsom salt.

Paraben free. Gluten free. Never animal tested.
Share: