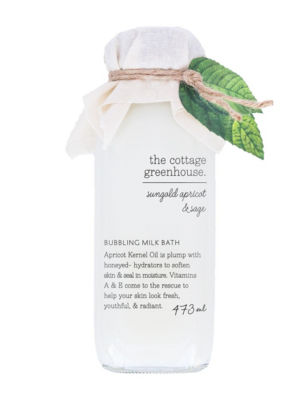 The Cottage Greenhouse Sungold Apricot & Sage Bubbling Milk Bath
Description
Apricot kernel oil is plump with honeyed-hydrators to soften skin and seal in moisture. Vitamins A and E come to the rescue to help your skin look fresh, youthful, and radiant. 16.0-oz.
Mother Nature knows best, take the plunge! Creamy clouds of fresh and frothy bubbles leave your body clean and happy. Our Bubbling Milk Bath's top secret recipe combines a splash of amazing almond oil to naturally nourish, a scoop of luscious coconut oil to help hydrate, and a dollop of skin soothing milk and honey to nurture delicate skin. Supremely softening as you relax and restore.
Key ingredients: apricot kernel oil, coconut oil, milk, honey and almond oil.

Paraben free. Gluten free. Never animal tested.
Share: