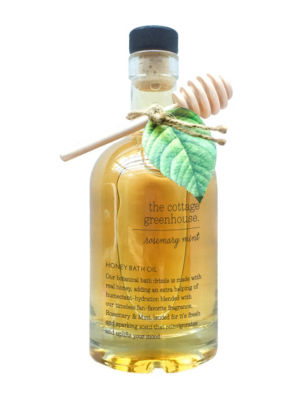 The Cottage Greenhouse Rosemary Mint Honey Bath Oil
Description
Mother Nature knows bestdrift away bath time dreamer. Light luxurious grape seed oil nourishes and nurtures your replenishing moisture while olive oil infuses your soothing soak with powerful plant antioxidants and vitamin E. You'll emerge relaxed and revitalized. Float on. 12.5-oz.
Instructions for enjoymentadd to running bath water three heaping drizzles of honey bath oil. Allow oil time to infuse soothing properties throughout bath water. Made withavocado oil, carrot oil and cocoa butter.


Paraben free. Gluten free. Never animal tested. Vegan.
Share: