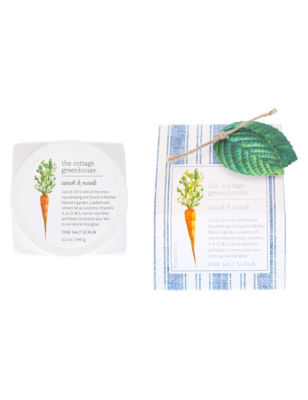 The Cottage Greenhouse Carrot & Neroli Fine Salt Scrub
Description
Carrot oil is one of the most rejuvenating oils found in mother nature's garden. Loaded with vibrant beta-carotene, Vitamins A, B, D, and E, carrot nourishes and helps to heal dry, chapped, or cracked skin. 12.0-oz.

Mother Nature knows bestour good-for-you, veggie packed, spa-to-go scrub! Naturally nourishing avocado oil and cheery carrot oil (known for its ability to visibly improve skin tone and improve general skin health) blend with luscious cocoa butter to create a skin softening sensation! Small granule sea salt combined with the polishing power of adzuki bean sloughs away sluggish surface cells to reveal your super smooth skin for a happy, radiant glow.
Made withavocado oil, carrot oil and cocoa butter.

Paraben free. Gluten free. Never animal tested. Vegan.
Share: